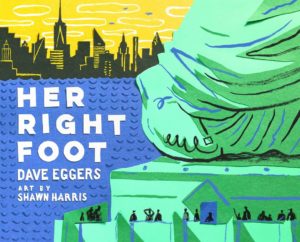 Iconic images of the Statue of Liberty show her from the front, with torch raised high. So most people are unfamiliar with her feet, which are mostly covered by her long robe anyway. But author Dave Eggers wants readers to notice her right foot, which he says holds a timely message about what the statue represents: acceptance of immigrants.
Written with humor and candor, Her Right Foot tells the story of the statue's creation in France and how it made it's way to New York. It's full of facts presented in a way to appeal to young readers. For instance, Eggers calls attention to the copper skin that "is about as thick as two pennies." He also writes that for about 35 years the statue was brown, which is the color of copper before it oxidizes into a greenish-blue hue.
Facts about her height, how she was built, the symbolism of the seven spikes on her crown, and more build up to a little known fact about her right foot. Eggers uses imagery of that foot to offer a reminder about what the statue itself symbolizes, both to Americans and to people all over the world.
Art by Shawn Harris is sometimes playful, sometimes serious, and it helps the story flow. Her Right Foot is a great book to share with children aged 5 to 8 as a way to start a conversation about immigration and its historic role in the U.S.
The publisher provided me with a copy of this book in exchange for my honest review.