L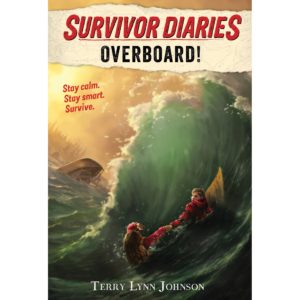 ots of kids love stories based on true events, especially when those events happened to kids like them. That's the appeal of the Survivor Diaries series by Terry Lynn Johnson.
I read Overboard! for review. It's the story of an 11-year-old boy and 12-year-old girl who get tossed in the water when their whale-watching vessel flips over. They don't make it to the rescue raft and drift off among rough seas. They fight hypothermia as they figure out how to survive long enough for rescuers to find them. It's a gripping tale that also relates survival skills for anyone caught in a dangerous situation. There's even a U.S. Coast Guard-approved list of cold-water survival tips at the end.
An author's note says the story was inspired by true events, although names and some details were changed. I recommend the Survivor Diaries for readers aged 9 to 12.
The publisher provided me with a copy of this book in exchange for my honest review.
Save