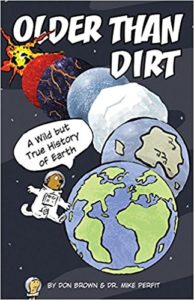 The story of Earth is a story of geology — continents shifting, volcanoes erupting, plates shifting, rocks forming, and more. That story comes alive for young readers in Older Than Dirt: A Wild But True History of Earth by Don Brown and Dr. Mike Perfit.
This "kinda-sorta biography" graphic novel is narrated by a groundhog with the help of an earthworm. Together they talk about how Earth was formed, different phases that have occurred in the last 4+ billion years, and how all those changes led to the planet we live on today. They even discuss predictions for the phases that may occur in the next 2 billion years.
The combination of clear language with illustrations makes the story easily understandable and fascinating to read about. The authors compare hot magma to gooey chocolate fudge; the Earth's core is likened to a peach pit. Carbon dioxide hovers in the sky as a blanket over the land. There are also a few interesting diversions into the history of the science of geology and the people who made major discoveries.
It all adds up to a fascinating account that is sure to appeal to young scientists and their parents. Source notes and a bibliography at the back encourage further exploration. I highly recommend Older Than Dirt for family bookshelves everywhere.
The publisher provided me with a copy of this book in exchange for my honest review.