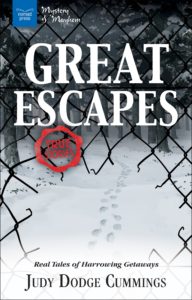 The true stories of adventurers, explorers and others escaping life-threatening situations are often more harrowing than anything fiction could imagine. Great Escapes in the Mystery & Mayhem series focuses on five escapes that actually happened. The stories range from slaves escaping to freedom, to an explorer battling the rigors of Antarctica, to East Germans seeking to be reunited with family and friends in the West, and more.
Each story contains a map that shows where key events took place and a time line that places them in history. Author Judy Doge Cummings knows how to write historical fact that reads like fiction, and young readers are likely to be on the edge of their seats to see how each figure from the past uses ingenuity to escape danger. While reading, kids learn significant facts that help make history come alive for them. The narrative should have broad appeal, attracting both avid and reluctant readers.
I recommend Great Escapes for readers aged 9 to 13.
The publisher provided me with a copy of this book in exchange for my honest review.
Save
Save