I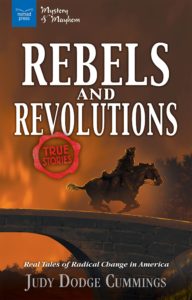 n Rebels and Revolutions, a title in the Mystery & Mayhem series, author Judy Dodge Cummings focuses on five people who "fought for their rights and changed history." They include a young boy who fought in the American Revolution, slaves who took over a slave ship, Japanese Americans interned during World War II, a young girl who resisted Jim Crow laws in the South, and a champion of the rights of farm workers. Some are well known names, others are not.
Each vignette tells the background of the individuals, people who decided they no longer wanted to stay quiet when they saw injustice. Each faced the possibility of personal danger from people who wanted things to stay the way they were, but they acted anyway.
Cummings's style makes learning history fun and relatable by focusing on the personal stories that made up the larger struggle that may be familiar to young readers. In her opening, she encourages readers to think about issues important to them when she says the stories "might inspire you to become a rebel for the right cause." Rebels and Revolutions should appeal to both girls and boys; I recommend it for readers aged 9 to 13.
The publisher provided me with a copy of this book in exchange for my honest review.
Save