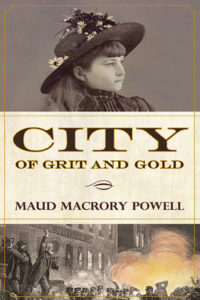 Twelve-year-old Addie loves to run and feel the power in her growing legs, but she's constantly cautioned to slow down, stay quiet, and do what her parents expect her to do. That's difficult in Chicago during 1886, a time of turmoil that saw unions organizing, protesters taking to the streets, even a gathering called the Haymarket Affair, when a bomb was thrown at police, killing several.
Addie wants to do what's right, but people she loves disagree on what that is. Her papa believes immigrants like him should work hard without complaining of the conditions, because the old country they left behind was worse. Her Uncle Chaim says workers should have humane working conditions and make enough money to support their families. Addie herself sees a vast gap between children like her who can go to school and those who put their lives at risk working in factories to help feed their families.
City of Grit and Gold by Maud Macrory Powell portrays the time of unrest that occurred in Chicago and other parts of the U.S. as workers fought for the right to limit their work day to eight hours, get paid a fair wage, have safety measures implemented in factories, and restrict child labor. Wide disparities between the sectors of society meant that many were struggling to get by.
When Addie sees her older siblings and her beloved uncle questioning the established order of things she doesn't know what to think. On one hand she has been taught to obey her parents without question. On the other, her budding sense of fairness has her wondering if the protesters are right.
Readers get a glimpse into all the important issues of the day through Addie's eyes as she goes about her days at school, in the street, in her home, at the park, and helping out with the injured and the sick. City of Grit and Gold is a small book, but it carries an impactful message about an important time in American history. I highly recommend it for readers aged 9 to 12 and their parents.
The publisher provided me with a copy of this book in exchange for my honest review.
Save