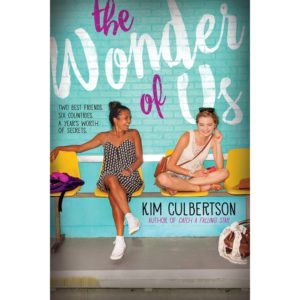 Abby and Riya have been best friends since before they can remember, but their relationship started to chill when Riya moved with her parents from their small California town to Germany. From a distance, it became difficult for them to share important news with each other. Thanks to a gift from Riya's grandma, they get to tour European cities while figuring out if their friendship has a future.
The Wonder of Us by Kim Culbertson will take you on a journey in more ways than one. First, it's really fun to learn about the cities Abby and Riya travel to. Their explorations can also provide inspiration for anyone considering a trip to Europe. But the journey also takes readers inside the anatomy of a friendship. What binds people together in the first place? How does physical distance affect emotional connection? Is there a way to bridge the gap?
Told from each girl's perspective in alternating chapters, The Wonder of Us lets readers see how small misunderstandings can easily grow to larger hurts when they're not addressed. But it also shows that when you are honest about what you need emotionally from a friend, finding a way forward becomes possible. I recommend it for readers aged 14 and up.
The publisher provided me with a copy of this book in exchange for my honest review.