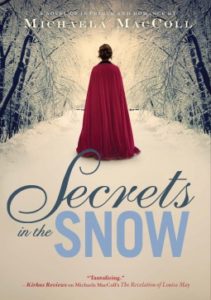 Jane Austen knows her cousin would never spy for the French. Not after her husband was sent to the guillotine by revolutionaries. Yet Jane can't help wondering about the masked man with the tawny eyes who seems determined to get a message to Eliza. Unraveling the mystery of the stranger in the snow leads Jane to investigate a murder. What she discovers may ruin her own chance of romantic happiness.
Secrets in the Snow by Michaela MacColl weaves fiction in with historic fact about Jane Austen to create a deliciously intriguing tale. Readers get to know Jane and her sister Cassandra as well as her brothers James, Henry, and George. Tom Lefroy, a possible real-life suitor for Jane, is a key character.
The action, featuring country balls, exchanges of witty conversation, and descriptions of ordinary life, reads like a Jane Austen novel with a twist. It's great fun for mother-daughter book clubs and readers aged 12 and up.
The publisher provided me with a copy of this book in exchange for my honest review.