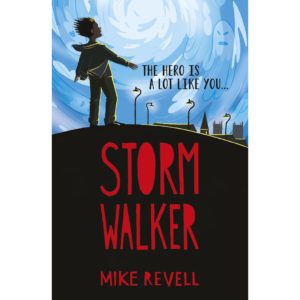 Owen doesn't like to think about the longest day in his life, the day a year ago when his mom died. He is finally beginning to find joy in the good things in his life, like being with his best friend and playing soccer. But Owen is worried about his dad, who can't seem to get over his grief. Things look up when his dad starts writing again; then Owen finds himself going out of his own reality and into a fantasy world, his dad's story. Can he help both their lives by getting his dad to finish the tale, or will he get lost in the life of Jake, the character his dad created?
Storm Walker by Mike Revell examines the nature of grief through an inventive story about a boy who will always feel the loss of his mom but who also wants to live a vibrant life with his dad again. Owen's forays into his dad's story are difficult, as the world he enters is bleak and dangerous. He also loses big chunks of his own life, and begins to feel the separation from everyone important to him. Still, he persists because he wants to help his dad.
As Storm Walker moves between the two story lines, readers are pulled into what is happening in both. It's a technique that's not easy to accomplish, but Revell does a great job of keeping readers interested in what's happening with Owen as well as with Jake, his literary doppelganger. The stories weave together in a way that will keep readers guessing about what happens next right up until the end.
I recommend Storm Walker for mother-daughter book clubs with girls aged 9 to 12.
The publisher provided me with a copy of this book in exchange for my honest review.
Save