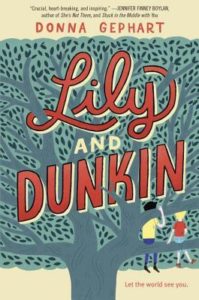 For all of Timothy McGrother's life the world has seen him as a boy. But inside Tim knows she's a girl born with boy parts. Her best friend encourages her to introduce the world to Lily Jo McGrother, the name Tim has picked out as a new identity. But 8th grade can be a brutal place for people who don't conform to expectations. Just ask Dunkin, who is new in town and anxious to make friends. He hangs out with a group that bullies Tim, even though Dunkin thinks it's wrong, because he wants to feel accepted. Dunkin hides his personal and family issues to fit in, yet his health depends on him admitting he needs help.
Donna Gephart's Lily and Dunkin is an important story about two people struggling for different reasons: one is transgender and the other faces mental health issues. They both long to fit in at school, and they both want to be accepted for who they are. They are lucky, because they have supportive families, yet they have to live in the world, where others can be cruel.
Kids who face similar circumstances may be interested in reading Lily and Dunkin to see how the characters address the issues they face. But the story is also relevant for friends, family, and classmates of those going through the same thing as well as for anyone who wants insight. I recommend it for mother-daughter book clubs where the girls are aged 10 to 14.
I checked out a copy of this book from the library to read and review.
Save
Save
Save