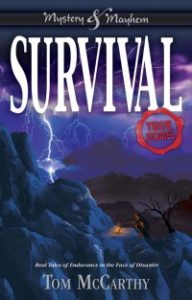 Some kids are drawn to history, some are not. But most are probably fascinated with real-life stories about events that happened to adventurers and regular people in days gone by. The Mystery and Mayhem series does a great job of finding bits about people from history and turning them into page-turners for the younger set. Survival: True Stories by Tom McCarthy is another in the series sure to appeal to readers aged 9 to 12.
Survival focuses on people who faced extreme circumstances and came out of them alive, even when many others in the group perished. Some of the tales are somewhat well known, like the Donner Party, others, like the French woman who survived a shipwreck and days in the Sahara desert, are not. In each case, McCarthy relies on eyewitness accounts and diaries to recreate the feeling of what it must have been like to be there.
Other stories featured in Survival include the tale of Captain Bligh, left on the high seas after a mutiny on his ship, the Bounty, Captain Shackleton's trip to Antarctica, and a pioneer group's trek across Death Valley.
The publisher provided me with a copy of this book in exchange for my honest review.