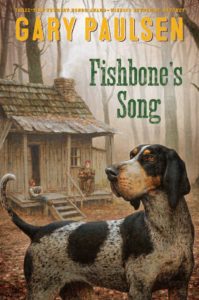 Fishbone tells three stories about how the boy came to live with him in the woods, but the boy doesn't know which is true. Maybe they're all true. He only knows Fishbone is old, and he's got a way of explaining things that makes you listen up and think long about what he's saying. The boy tried living away from Fishbone for a while so he could go to school, but it didn't last. Now he knows he's learning skills that will help him prepare for the day that his old guardian passes on.
Fishbone's Song by Gary Paulsen is a tender story of a boy growing up and learning the ways of the woods from the wise old man raising him. He learns how to live with the creatures around him, taking what he needs and leaving the rest be. Fishbone encourages the boy to try and fail over and over again as he learns new skills, knowing that he will find a way to accomplish what he needs to.
In a time when so much of life is filled with rushing from one thing to another, Fishbone's Song encourages readers to slow down and notice the world around them. I recommend it for readers—girls and boys—aged 9 to 12.
The publisher provided me with a copy of this book in exchange for my honest review.
Save