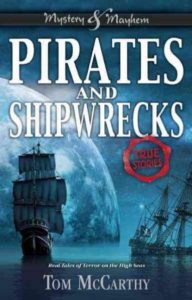 Readers aged 9 to 12 are often attracted to stories about pirates and shipwrecks, and that may be especially true when those stories are about events that happened to real people. That's the appeal of Pirates and Shipwrecks: True Stories by Tom McCarthy, a title in the Mystery & Mayhem series.
McCarthy features three shipwrecks and two pirates in this quick read that is sure to keep the pages turning. There's the story of Daniel Collins, whose ship went down near Cuba and who escaped death when most others in his crew died. There's also the tale of Captain Douty, who had to keep a group of English soldiers and their families safe after their ships wrecked in a storm near islands where cannibals lived.
Readers learn about the background of the infamous pirate Barbarossa as well as that of Mary Reed, one of two female pirates to operate in the Caribbean. It's all a lot of fun that will encourage young readers to enjoy learning facts about events from history.
The publisher provided me with a copy of this book in exchange for my honest review.