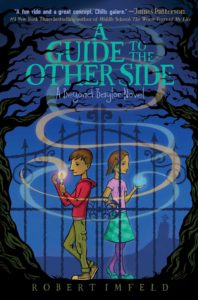 Baylor Bosco has a unique talent. He not only sees ghosts, but he can deliver their messages to loved ones still on Earth. His twin sister Kristina, who is also a ghost, acts as a go-between for Baylor and the other side, a sort of spirit-world gatekeeper. But when a mysterious ghost covered in a sheet appears to Baylor, neither twin knows what it means. They set out to solve the mystery while learning things about their unique abilities along the way.
A Guide to the Other Side by Robert Imfeld is a ghost story that's inventive and just the right amount of creepy. In Baylor's experience, most people who have passed on want to convey good messages to the loved ones they left behind, so they can find their own peace. The sheet man, as he calls the strange visitor, is different, and Baylor feels something menacing from him. It's intriguing for readers to follow along as he and Kristina unravel the mystery.
This first novel gets the Beyond Baylor series off to a great start, and readers aged 9 to 12 are sure to read this and want more.
The publisher provided me with a copy of this book in exchange for my honest review.
Save