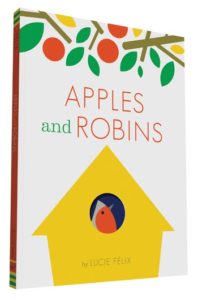 A child looks out her window at the end of summer and sees an apple tree loaded with fruit just out of her reach. With the help of a few rectangles she has a ladder and can climb up to pick the treats. But when she bites into an apple, she finds a worm. No problem, as an oval and some triangles create a robin that eats the worm.
Apples and Robins by Lucie Félix helps young children learn shapes and colors as it tells a sweet story of bird and garden life just outside the window. Die-cut shapes form the apple and robin as well as others objects, such as a birdhouse, a bolt of lightning, and a basket. The world outside the window goes from late summer to fall to winter. The final pages almost burst with life and color, and readers can almost hear and smell the signs of spring.
It all creates a magical journey that parents can read to younger toddlers and kids aged 5 to 8 can read on their own. I highly recommend Apples and Robins as a delight for both kids and parents.
The publisher provided me with a copy of this book in exchange for my honest review.
Save
Save