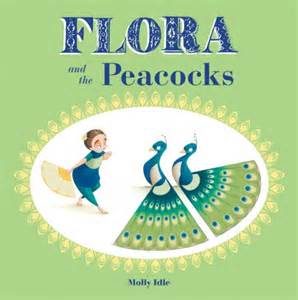 Flora finds two new friends she wants to dance with, peacocks who love to show their beautiful tails. But when she spreads out her fan and steps towards them, one responds, and the other grows jealous. Then the jealous one turns friendly, and the other gets mad.
As Flora dances, opening and closing her fan in rhythm to when the peacocks open and close their tails, she finds a way to bring all three of them together.
Flora and the Peacocks by Molly Idle is the latest story about the little girl who loves to dance and make friends with animals. There are no words in the book, so parents are free to invent whatever backstory they'd like to go along with the action. And as groups of three often have problems getting along, the story may open up talks of personal situations.
Even without that connection, children are sure to love opening and closing the paper flaps attached to some of the fans and peacock tails. The blue and green color coordination between Flora's outfit and the peacocks is also pleasing to look at.
I recommend Flora and the Peacocks for ages 3 to 5.
The publisher provided me with a copy of this book in exchange for my honest review.