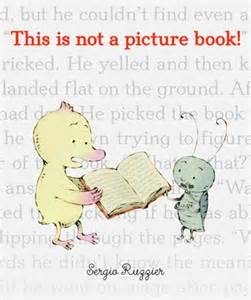 Some children resist learning to read because looking at picture books is a lot more fun than written-word-only pages, which can intimidate them. This is Not a Picture Book by Sergio Ruzzier is made especially for children as they learn to read to help them make that transition.
The story follows duck and his friend, a little bug, as they at first reject a book without pictures, and then realize they can understand some of the words. They find they know happy words and sad ones, and wild words and peaceful ones. The words carry them away and then bring them safely home. When they finish the story bug says, "Read it again," a phrase often repeated by children who want to hear their favorite books read one more time.
Ruzzier has cleverly included the entire story as it would be told without pictures on the inside front and back covers. Some of the words on the inside front cover are jumbled up, and early readers can have fun unscrambling them.
This is Not a Picture Book is a great transition book for ages 3 to 5. While three year olds may not be able to read any words yet, they can look forward to the time when it comes.
The publisher provided me with a copy of this book in exchange for my honest review.