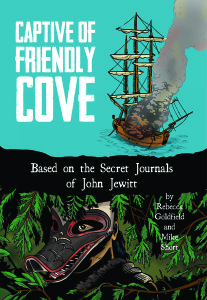 Fans of graphic novels and real life stories plucked from the history books should be drawn to read Captive of Friendly Cove: Based on the Secret Journals of John Jewitt. I have Chapter 8 to share so readers can see for themselves the detailed illustrations and some of the tribal life Jewitt wrote about. Here's a description of the book from the publisher:
"From the creators of the award-winning Trickster and District Comics, comes another graphic novel about adventure and tribal life. After his ship is burned and his shipmates killed, British sailor John Jewitt lived for nearly three years as a captive of the Mowachaht people on the west coast of Vancouver Island. During his captivity, Jewitt kept journals of his experiences and of tribal life. Follow his adventures as he plies his skills as a blacksmisth, saves his only remaining crew member, and comes up with a strategy to free them both."
Download the chapter now to read about how the tribe prepared for a whale hunt. Captive of Friendly Cove: Captive Of FriendlyCove Chapter 8.