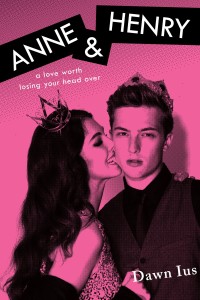 Today I'm taking part in the Heads Will Roll blog tour for a book by Dawn Ius, Anne & Henry. Ius has freshened up the historical tale for modern teens, and I have one copy of the book to give away to a reader in the U.S. Just be aware that the book is a  sizzling romance with a trash-talking heroine, which makes it appeal to mature teens. Just leave a comment here before midnight (PDT), September 23 telling us what you like about historic events updated for modern audiences. Please note: The giveaway is closed. Congratulations to Mark on winning.
Now, here's my review.
Anne & Henry by Dawn Ius
Anne Boleyn arrives in the town of Medina ready for a fresh start, a new beginning after surviving her parents' divorce and a scandal she is said to be part of. Right away she challenges the dynasty at the top of her elite, private school. Henry and Catherine are the power couple, with Henry chosen even in high school to go for a life in politics with the expectation that he will be president one day. Anne is beautiful, dangerous, and unlike any girl he's ever met. The two make sparks together, but can they maintain a relationship and still keep their heads?
Anne & Henry by Dawn Ius imagines what would happen if an anointed king of today fell for the dangerous beauty. Would he throw away everything he's worked to achieve to win her love, or would she be too much for him? Centuries after the original Anne Boleyn and Henry Tudor conducted their famous affair, the story is still relevant and Ius creates a very believable scenario for the two of them in today's world. Even if you believe you know how it all will end, Ius keeps you guessing about the details of how it will play out until the end.
I recommend Anne & Henry for readers aged 16 and over.
The publisher provided me with a copy of this book in exchange for my honest review.