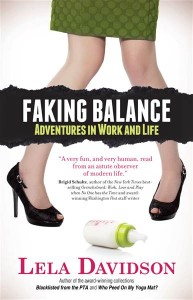 Managing the conflicting priorities of work, marriage and motherhood often calls for a juggling act that can stress even the most calm women, who are often told that being successful at all three is just a matter of balance. Along comes Lela Davidson, a writer with a wicked sense of humor and a willingness to lay bare some of the challenges she has faced in the major areas of life since getting pregnant with her first child in the 1990s.
Davidson's collection of essays, Faking Balance: Adventures in Work and Life, is honest, funny, and refreshing. Her stories start with an essay that tells how she set up a spreadsheet to plan to her first pregnancy, and then go on to describe the challenges of early motherhood, the jobs she held over the years, and the challenges she faced trying to make it all work. I saw similarities to my own family life in situations such as taking family portraits, hanging out with the kids at Chuck E. Cheese's, struggling to get out of the house on time, wishing for rain to cancel soccer practice, and more.
Through it all I felt like I could have been having a cup of coffee with a friend, listening to her stories and laughing about the situations once the stress of the moment was in the past. Davidson's stories capture the universality of experience for many women. Because of that, I believe it appeals to moms who work outside the home as well as those who don't.
Save