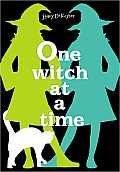 A harsh winter has taken its toll on Rudi's village of Brixen. Carrying a portion of his dairy farm's dwindling supply of cheese and butter, he sets off for the market in a nearby town to trade for food, taking the pesky daughter of a friend along. But when Susanna Louisa trades a whole cow to a pretty foreign girl for a handful of beans, Rudi's troubles truly begin.
One Witch at a Time by Stacy DeKeyser reimagines the Jack in the Beanstalk tale, expanding and updating it for modern readers. Here, a whole community surrounds Rudi. When he sets off with Susanna Louisa to visit the witch who lives in the mountain and set things right, he begins an adventure that will have him figuring out how to return things where they rightfully belong, address injustice for oppressed villagers, and earn the respect of those closest to him. It's a tall order for a 13-year-old, but Rudi shows he's up to the task.
While the basics of the tale are well known—a boy, a giant, a beanstalk—DeKeyser creates so much more by providing rich detail about the place and the people in it. She also makes a few changes that will delight young readers. Rudi's town of Brixen, the far-off icy village of Petz, two magic witches, and one clever grandmother all combine to make One Witch at a Time a compelling book for kids to read on their own or for parents to read to them. I highly recommend it for young readers and mother-daughter book clubs with girls aged 8 to 12.
You may be interested in watching the book trailer: https://www.youtube.com/watch?v=MQWp3Nk9nY4. Also, check out Stacy DeKeyser's previous post about what makes a good story and a give away of One Witch at a Time and The Brixen Witch.
The author provided me with a copy of this book in exchange for my honest review.