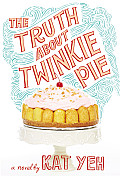 Since their mom died when GiGi was a baby, her big sister DiDi has taken care of her. DiDi works hard to make sure GiGi gets what she needs to excel in school and prepare for college. So when she wins a lot of money in a contest, she decides the two of them should move to Long Island where GiGi can attend a challenging prep school.
GiGi sees it as an opportunity to reinvent herself without leaving the things she likes about her life behind. She makes waves as well as friends and enemies in her new town. But her desire to find a special present for her older sister's birthday will lead her to a shocking discovery about her family.
The Truth About Twinkie Pie by Kat Yeh is about family, friends, and making a better life for yourself when the opportunity arises. As GiGi tries to figure out how to fit into her new, upper-class environment, she learns that people can have troubles no matter what their situation in life.
Sprinkled with recipes from the girls' trailer park, South Carolina roots, it's an endearing story that will have you whipping up the dishes described even as you ponder the life situations they serve. I recommend it for mother-daughter book clubs with girls aged 12 to 16.
The publisher provided me with a copy of this book in exchange for my honest review.