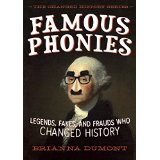 Famous Phonies: Legends, Fakes and Frauds Who Changed History by Brianna DuMont should put to rest any notion that history is boring. In twelve chapters focusing on historic figures, DuMont sets about answering questions such as: Did a female pope ever sit on the throne in Rome? Did Homer really write The Iliad and The Odyssey? How did Confucius become a legend? Was George Washington a good general?
The people DuMont highlights include those above as well as Shakespeare, Hiawatha, Pythagoras, Gilgamesh and more. In each case she looks in depth into the tales surrounding the person, in some cases even showing that the person of legend never existed. But DuMont also points out how the stories about the famous people often inspired others to go to war, change the rules, or even create new inventions. For instance, The Turk, a famous chess-playing automaton from the 1700s, helped inspire inventors who started the Industrial Revolution. And a planted dead body helped the Allies win World War II.
Famous Phonies is full of interesting tidbits that will have you thinking critically about other legends you take for granted. It's fun to read, with several pull-out facts and supporting sidebars included with each chapter. The result is a fascinating read for those who love history as well as those who think they don't. I highly recommend it for readers aged 9 to 12 and their parents.
The author provided me with a copy of this book in exchange for my honest review.
Save