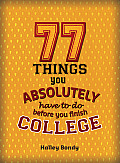 For many young adults, being in college is the first time they get to try out being on their own. And while partying may be the first thing that pops into your mind when you think about older teens branching out, author Halley Bondy thinks there is much more to consider: 77 things to be precise. Her guide, 77 Things You Absolutely Have to Do Before You Finish College is a thoughtful look at the whole experience of going to college and the benefits you can get outside of the education you receive there.
Recommendations are divided into seven categories that address dorm rooms/apartments, getting around on your own, getting the most out of school, being social, taking care of your health, spoiling yourself, and preparing for getting out of college. Each idea is presented on a two-page spread, so it's easy to pick up the book and focus on one or two ideas at a time. Many tips are practical, like "Learn to prepare one meal perfectly." Others are meant to help students branch out to things they may not normally do, like "Join an a capella group." or "Contribute to the school paper." Some, like "Get a massage," are just fun.
Bondy's tone is light and conversational and her suggestions are peppered with pull-out quotes and relevant sidebars, like a lesson on how to set a table and a list of signs to help you tell a bad friend from an abusive friend. All in all, 77 Things makes for a great guide to pack along in your suitcase whether you are a freshman starting out or a student returning for another year. It makes a great gift too.
The publisher gave me a copy of this book in exchange for my honest review.