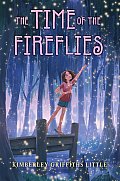 Larissa Renaud knows her family is unusual—they live above the antique store they operate in a small Louisiana town. She also stays to herself after nearly drowning while being taunted by local kids. But even she has to admit that the phone calls coming in to the disconnected antique phone in her parents' shop are stranger than normal. The vaguely familiar voice on the other end tells her to trust the fireflies.
So when a group of fireflies show up dancing before her eyes, she decides to follow…right to the scene of her near drowning. Putting her fears aside she crosses over into a world she would have never thought existed, a world straight out of her family's past. While there she discovers a family secret that needs to be put right, or else it could threaten her pregnant mother.
In The Time of the Fireflies, Kimberley Griffiths Little returns to the banks of the bayous where several of her other books were set. She does a great job of expanding on a character from another novel and creating another thrilling story. At heart, this story is a great tale about the relationship between mothers and daughters. The special bond Larissa has with her mother shines through even when they are too busy or preoccupied or afraid to confide in each other. The mystery of who is making the phone calls and what Larissa is supposed to discover lend an urgency to the story, as Larissa works to overcome her fears and set an old wrong right. Readers will love following along with the adventure and mystery.
I recommend The Time of the Fireflies for mother-daughter book clubs with girls aged 10 to 14.
The publisher gave me a copy of this book in exchange for my honest review.