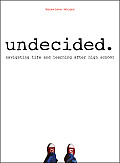 If I could hand students in high school one book to help them figure out what they want to do when they graduate, it would be Genevieve Morgan's Undecided: Navigating Life and Learning After High School.
As a volunteer in the College and Career Center at my daughters' high school, I spent seven years talking to juniors about what they planned to do. Some of them knew exactly where their paths would take them, others were not so sure. All of them could have benefited from reading Undecided.
Why do I think it's such a great guide? For one thing, Morgan's down-to-earth writing style makes you feel as though you are talking to a trusted friend. For another, the book is divided into sections that will walk students through the process of figuring out what they like and what they are good at and then present them with quite a few options that go beyond the expected university or community college enrollment.
I also love the sidebars Morgan includes in the book. She includes things like checklists and quizzes to help students figure out their personality types, budget worksheets, and more. Profiles of famous people and the courses their lives took are also featured.
Even with my training and experience in the high school, I didn't know a lot of the details that Morgan covers as she discusses four-year universities, two-year colleges, joining the military, volunteering, signing up for a service program, going to work and more.
I highly recommend Undecided for high school students as well as their parents.
The publisher gave me a copy of this book in exchange for my honest review.