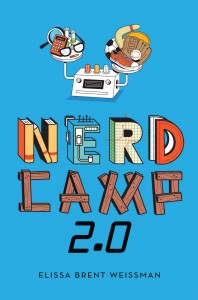 Elissa Brent Weissman loves to blend nerdy things with normal things in her books for kids. Her newest book, Nerd Camp 2.0, follows that tradition with the sequel to last year's Nerd Camp. While I didn't read the first book, I found Nerd Camp 2.0 to be delightful as a read on its own. And I'm happy to say that as a participant in Weissman's blog tour for the 2.0 release, I have a copy of both books to give away to one reader in the U.S. along with a super-cool retainer case. Leave a comment about something nerdy you like to do (comment by midnight [PDT] on Monday, May 26). Please note: the giveaway is closed. Congratulations to Shondra on winning.
You can also find fun stuff on Weissman's website, including molecular gastronomy recipes. A proud nerd herself, Weissman has written other books to check out including The Short Seller (see my review), Standing for Socks, and The Trouble with Mark Hopper. She lives in Baltimore, Maryland, with her nerdy husband and their two super cool nerds-in-training. To learn more visit www.ebweissman.com.
Here's my review of Nerd Camp 2.0
Zack and Gabe are stepbrothers who couldn't be more different. Zack likes skateboarding, playing video games and listening to music on his iPod, while Gabe is more into being on the math team and conducting scientific research. They've learned to respect each other's differences, and Gabe even helped Zack getting into a summer camp that's near the one for gifted children that he attends.
But when a forest fire damages Zack's camp it's relocated to Gabe's, and not everyone is happy to be forced together. Those at Camp Seneca see the others as nerds getting in the way of their fun, and campers at the Summer Center for Gifted Enrichment feel their safe haven from the normal harassment they get at school is gone. The two sides wage an escalating war for control of the campground. Can they come together before things get out of hand?
Nerd Camp 2.0 by Elissa Brent Weissman, the sequel to Nerd Camp, goes back and forth between Gabe's and Zack's perspectives, showing the concerns of each side. What seems like harmless fun to others, can be hurtful from a different perspective. Each side has radical elements that want to take over by force as well as moderate voices seeking compromise. But how can the two sides even come together to talk when they don't trust each other? Even Gabe and Zack, stepbrothers, don't trust each other to do the right thing.
This is a great book for mother-daughter book clubs with girls aged 9 to 12 to read and discuss. For one thing, it shows how both sides of an issue can have right and wrong viewpoints. Also, it shows kids stepping out of their stereotypes. For instance, nerdy Gabe likes to have fun swimming and hanging out at a campfire, while jock Zack finds he likes to cook. When they both learn to be comfortable with who they are they begin to see possibilities for bringing the sides together. I recommend it.
The author gave me a copy of this book in exchange for my honest review.