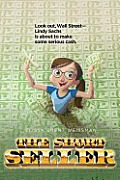 When 12-year-old Lindy comes down with mono she's too tired to think of doing anything but sleep. Soon she's feeling better even though she's still stuck at home for a while. To help her pass the time, her parents give her $100 and access to their brokerage account, so she can experiment with buying and selling stocks.
Lindy is fascinated by the stock market, and before long she's taught herself a lot of the ins and outs of trading shares. As a bonus, math is fun for her for the first time. But she learns that the stock market can go up and down on a whim, and what looks like gains and losses on paper can have real consequences.
The Short Seller by Elissa Brent Weissman takes a look at investing in more ways that one. Lindy can't understand why her parents are always restricting what she can buy when it's obvious they have a lot of money. She's not allowed to have a cell phone yet, or go to concerts without parents or buy a lot of clothes at the mall. She doesn't understand why anyone would want to keep money growing in an account over a long period of time when it could be taken out and spent on something fun in the short term.
At the same time she's learning about trading stocks, Lindy is also dealing with strains on the relationship she has with her two best friends, who have become close while she's been out sick. Through it all she learns about the true meaning of friendship, solidarity between sisters, and the importance of paying attention to details. Girls between the ages of 9 and 12 should appreciate the issues Lindy faces.
The publisher provided me with a copy of this book in exchange for my honest review.