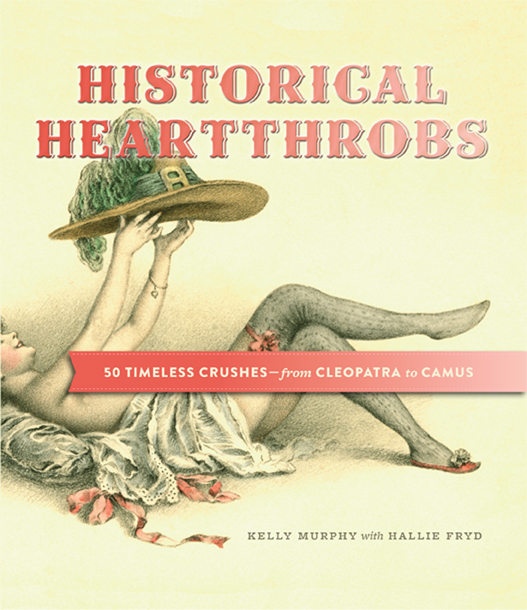 Today I'm featuring a review of the book Historical Heartthrobs. Check back in tomorrow when I'll be taking part in the blog tour, where I'll be featuring an interview with the author and a giveaway of the book. Here's the review:
Quick, think of a famous heartthrob! Chances are you didn't think of someone from the past, but a book by Kelly Murphy with Hallie Fryd is hoping to change that. Historical Heartthrobs: 50 Timeless Crushes—from Cleopatra to Camus is a fascinating look at some of the people who have intrigued and captivated people throughout time.
Some of the featured heartthrobs are expected—Cleopatra and T. E. Lawrence—while others are totally unexpected, like Benjamin Franklin and Nellie Bly. The people included can be vastly different. The common thread, as we're told in the introduction, is that "one way or another, the 50 people in this book made other people swoon."
Author Kelly Murphy conducted lots of research on each heartthrob, and she's distilled that research into a short biography and photo or painting of each person listed that gives a bit of history and the reason for inclusion on the list. Each bio reads quickly, with pull-out quotes, interesting tidbits, and even a heat factor rating. It all adds up to a lot of fun.
Murphy tells us in the introduction that she wasn't all that interested in history while she was in school. Her book is sure to catch the attention of history buffs and those, like her, not all that attracted to history. It tells the story behind the story of historical figures and includes popular figures that don't often make the history books, like athletes, dancers, clothing designers, surfers, scientists, and more. I recommend Historical Heartthrobs for readers aged 14 and up.
The publisher gave me a copy of this book in exchange for my honest review.