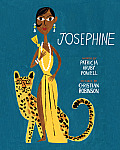 The story of Josephine Baker is legendary. Born into poverty in St. Louis, Missouri, in 1906, she rose to become a world-celebrated performer who advocated for civil rights and helped the cause of the French in World War II. A new illustrated book for young readers, Josephine: The Dazzling Life of Josephine Baker, tells the incredible story of her rise from the slums of St. Louis, to her performance on stage in the U.S., to the fame she found in Paris.
Throughout the story runs the thread of a spirit that would not be stopped, either by her personal circumstances coming from a large family with little money or a country that separated black entertainment and audiences from white. Josephine made things happen for herself, in spite of the restrictions that others wanted to hold her to.
Patricia Hruby Powell tells the tale in sparse prose with a rhythm of its own, with sections divided into pivotal times in Josephine's life. The illustrations by Christian Robinson capture the determined, free spirit Josephine had. Together they bring to life the story of a truly remarkable woman who broke barriers of all kinds following her passion.
Josephine is a great book to read during African-American History Month in February, National Poetry Month in April, or anytime. I recommend it for readers aged 7 to 10.
Click here for an excerpt.
Click here for the video trailer featuring jazzy music.
The publisher gave me a copy of this book in exchange for my honest review.