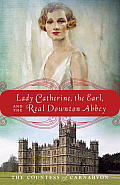 England's Highclere Castle has become widely known as the setting for the Downton Abbey series on PBS, with opening credits of each episode and interior scenes focusing on the grandeur of the historic seat of the Earl of Carnarvon. Yet the castle has a notable history of its own, a story told by Fiona, the 8th Countess of Carnarvon, in her book Lady Catherine, the Earl, and the Real Downton Abbey.
The Countess focuses on the years spanning 1923 to 1945, a time that saw multiple changes come to the great houses of England. The story opens with the death in Egypt of the 5th Earl of Carnarvon, who had financed and was involved in Howard Carter's discovery of King Tut's tomb. Lord Porchester, his son, became the new earl, and together with his American-born wife Catherine, set about saving Highclere from tremendous debt. It was a move that would help later during The Great Depression.
Anyone who is a fan of the television series understands the fascination with the relationship between the aristocracy and the working staff that kept their homes running. This book offers plenty of that, but it also focuses on the historical events always swirling in the background. The glimpse into wartime London and the English countryside during World War II is fascinating.
I recommend Lady Catherine, the Earl and the Real Downton Abbey not just for fans of the series, but for anyone who wants to learn more about the real people, places and events that were such a pivotal part of that period of time. And if you'd like to learn more about the castle, including how to tour it, visit www.highclerecastle.co.uk.
The publisher gave me a copy of this book in exchange for my honest review.