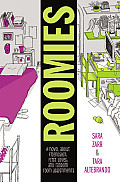 When Elizabeth gets the notice giving contact information for her college roommate, she sends off an email right away with the basics: who's bringing the microwave, who's bringing the fridge, etc. There are a lot of reasons she can't wait to leave New Jersey for Berkeley, California. She's thinking of breaking up with her boyfriend, her single mom is acting like she'll be glad to see Elizabeth go, and on the West Coast she'll be close to the dad who left her long ago.
Lauren is less than excited to get Elizabeth's email. She lives in San Francisco with her parents and five much younger siblings. Hoping for a bit of space of her own, she requested a single. Plus, as a scholarship recipient with little money to spend on other supplies, she's not even sure how much she can contribute to common dorm room supplies.
Roomies by Sara Zarr and Tara Altebrando is a great book for older teens on the cusp of graduating from high school and going on to college. One of the biggest worries in the months leading up to the start of college is "How will I get along with my roommate?"
Email, phone and social media make it easier to get an idea of who a roommate is in advance of a personal meeting, but as Roomies shows, electronic communication isn't usually very good at portraying the story behind the messages. It's easy to make judgments about someone that you wouldn't make if you knew the whole story.
That's the case with Elizabeth and Lauren. As the two correspond over the summer, they find themselves entrusting secrets they don't feel comfortable revealing at home, sharing their hopes for the future, going through misunderstandings and more before they even hear each other's voices let alone meet face to face.
Told in alternating chapters by the authors, Roomies shows how the girls may be very different from each other while exploring the possibility that they will find common ground and be able to share close quarters in the months ahead. I recommend it for ages 16 and up.
The publisher gave me a copy of this book in exchange for my honest review.