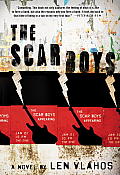 When Harry was eight years old, he was the victim of a bullying prank that went terribly wrong, leaving his face and body terribly scarred. The scars left him more of an outsider than he already was. When a pretty cool kid named Johnny befriends him, his status rises just a bit. When the two of them decide to start a band, Harry finds that music helps him deal with his emotional pain. As The Scar Boys get better, they take on a girl named Cheyenne as a new bass player. For the first time Harry has hope that he may be seen for the person he is underneath, rather than judged by the scars that show on the surface.
The Scar Boys by Len Vlahos is a compelling book that doesn't flinch when looking at the realities of living life with visible deformities that make you different from everyone else. Harry stands apart because of his scars, but deep down he is just like any teen, and he wants what most teens want: friends, someone who thinks he's special enough to date, parents who care for him, the ability to eventually make his way in the world.
The healing power of music is also a theme that runs prominently through the book. Each chapter is titled with the name of a song made popular during the years before the story takes place in the 1980s. The song sets the tone for what is to come, and I found myself looking up the words to each as I went along.
Harry tells the story as though he is writing an essay to a college admissions representative, something sure to resonate with teens who are contemplating summing up who they are and why they are special in 1,000 words or less. Harry writes considerably more, and his voice is frank, sometimes filled with despair sometimes hope, always seeking a way forward.
I highly recommend The Scar Boys for mother-daughter book clubs with girls aged 14 and up. Issues to discuss include the role friends play in each others lives, finding personal courage in the face of adversity, songs that resonate with different emotions, and more.
The publisher gave me a copy of this book in exchange for my honest review.
Check back tomorrow when I feature an interview with author Len Vlahos and a book giveaway as part of his blog tour.