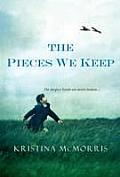 It's been two years since Audra's husband died, but she can't let go of her grief and move on. Especially now that her seven-year-old son Jack is having night terrors and difficulty at school. In a chance encounter, she meets Sean, a combat veteran whose story and family history may lead to clues that will help Jack.
Decades before, during the turbulent times of World War II, Vivian is torn between two men: Isaak, who is trapped in Germany with the outbreak of war, and Gene, the brother of her long-time friend. Wartime separations and reunions complicate matters as she struggles with understanding her own heart.
The Pieces We Keep by Kristina McMorris follows the stories of both women, whose lives are intertwined in unexpected ways even though there is no obvious link. McMorris weaves in fascinating historical details while crafting a story that unveils clues of the connection as it goes along. When long hidden family secrets are at last unveiled, they bring the novel to a satisfying end.
Book clubs reading The Pieces We Keep will find topics for rich discussion, including the emotional bond between parents and children, the meaning of love and marriage at different times in history, spiritual beliefs about life after death, and the role family secrets can play in our lives.
The author gave me a copy of this book in exchange for my honest review.