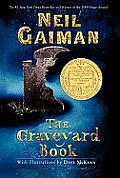 A man named Jack murders Bod's family when Bod is just a toddler. Bod toddled to escape unaware he was escaping or that he was toddling into a graveyard, where the permanent occupants decide to raise him with the help of a guardian who can come and go and bring food and clothing.
As Bod grows he has the run of the graveyard,; he even masters some of the skills usually not shared with the living. But eventually he becomes curious about the world outside the gates and seeks to learn more about the land of the living. What he doesn't know is that the man named Jack never forgets about the baby who got away, and Jack is certain that one day he will find what he's looking for to finish the job he started.
The Graveyard Book by Neil Gaiman has an unlikely start for a children's book: a family killed for unknown reasons. But this Newbery winning story doesn't dwell on the details that lead to Bod's childhood in the graveyard. Instead it tells the tale of a child raised unconventionally, by parents and guardians who are by definition not normal, yet he knows he's loved and cared for unconditionally.
Bod's adventures both inside and outside the graveyard's iron gates and stone walls are inventive and intriguing. And his foray into the school system will certainly have some readers wishing they had his skills in dealing with bullies. The action, while somewhat dark and creepy, stays appropriate for young readers without an undue amount of anxiety and tension as the story builds to a climax.
Pen and ink illustrations in black and white capture the feeling of the graveyard and its inhabitants. There's even a bit of history woven into the stories that Bod learns from those who died at different times over the past century. Gaiman's mastery of storytelling, including some elements of fantasy involving ghouls, ancient creatures, and a long-lived criminal society, makes The Graveyard Book a great choice for mother-daughter book clubs with girls aged 9 to 12. I highly recommend it.