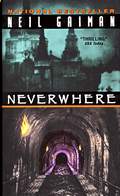 Richard is not the kind of guy to make waves. He lives a normal life in London with a fiancée who tells him what to do and a good-enough job where he performs well even if he doesn't distinguish himself. That all changes the day he sees what appears to be a homeless girl on the sidewalk who is hurt. When he stops to help her, his life becomes entwined with the underworld of London, a place full of hardship, danger, deprivation and totally unlike anything he has ever experienced before. He also discovers that if he wants his old life back, he'll have to be daring in ways he never thought he could be.
Neverwhere by Neil Gaiman takes the reader on an adventure in a richly imagined world with demented assassins that live for centuries, a family that can open doors where there are none, a separate underground system existing alongside London's Tube, along with the darkness and dirt you would expect to find in a world below.
Richard has never considered himself a hero or any kind of risk taker. He has always plodded along doing the thing expected of him. But thrown out of his normal life, and with his life threatened, he learns to call upon personal resources he never imagined he had. His relationships with the characters he meets in the underworld are more intense than any he has had above ground. It all makes him wonder if regaining his old life is really what he wants.
Neverwhere is a great book for mother-daughter book clubs with girls aged 16 and up. Discussion can center around the world Gaiman creates as well as Richard's struggle between his desire for his old life and his thrill at stepping out of the bounds he has created for himself. That theme should resonate well with girls on the cusp of finishing high school and moving on to what comes next.