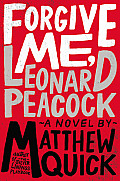 Leonard has decided that he's going to kill himself and the guy who torments him. But first, he decides to say goodbye in his own way to the people who made a difference in his life: the old guy next door who taught him to love Bogart films, the high school teacher who teaches a class on the Holocaust, a girl who hands out religious tracts on the subway, and a fellow student who is a secret violin prodigy.
Leonard is convinced he has nothing to live for, and that Asher Beal deserves to die. As the story unfolds, we find that Leonard's father abandoned him long ago and his mother is mostly absent. He and Asher used to be friends until Asher turned on him.
Like other books by Matthew Quick (Boy 21, Sorta Like a Rock Star) Forgive Me, Leonard Peacock is not comfortable to read, but it is important to read. Leonard's emotions are raw, and he is isolated. Repeatedly he reaches out to his mother and is rejected. He's awkward interacting with friends. Fortunately for Leonard his teacher recognizes his suffering, possibly because he went through something similar in his youth, and extends a lifeline to him. The characters are real and gritty and somehow familiar.
Forgive Me, Leonard Peacock is a great book for mother-daughter book clubs with girls aged 14 up to read and discuss. Topics to talk about include social strains on teens, how teens can find help if they need it, the kind of thinking that will push someone to do something extreme, and more. I highly recommend it.
The publisher provided me with a copy of this book in exchange for my honest review.