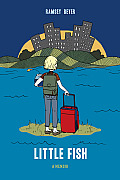 Ramsey Beyer, author of Little Fish is big on making lists of all kinds, like "The Top 5 Things I Like About My Neighborhood," and "Recent Best Feelings Ever." As part of the Little Fish blog tour, I have one copy of the book to give away to a reader in the U.S. If you'd like to win a copy, leave a short list of your own in the comments section before midnight (PDT) on Wednesday, September 25. Please note: the giveaway is closed. Congratulations to Lori on winning.
I'll start off with my list called Four Tough Adjustments When You Send Your Child to College:
Her bed stays made every day, constantly reminding you she's really not home.
You worry endlessly when she's sick and you can't go to the doctor with her.
You no longer know her friends.
You're happy that she's happy away from home, but you're just a bit sad too.
Here's my review of Little Fish: A Memoir:
Accustomed to life in a small town in Wisconsin where everyone knows each other, Ramsey is excited that she has the opportunity to venture out on her own after she graduates from high school. Shy and pig-tailed, she nonetheless enters college life at an art school in Baltimore with high hopes and dreams of adventure. Little Fish is her memoir of her first year away from home.
The title reflects Ramsey's feelings that she has become a little fish in a big pond, and at first she is definitely out of her element. But as she makes friends and becomes immersed in challenging schoolwork, she gradually builds up confidence and starts to branch out.
Told through illustrations and copies of journal entries and blog posts Beyer wrote at the time, Little Fish: A Memoir is an honest look at the difficulties young adults face when leaving what they know and beginning to forge a life away from home. It's a great insight for both high school students on the cusp of a similar experience and the parents who will send them off. Beyer captures the balance of both excitement and fear that comes with stepping from a safe, known world into one that is unknown and full of possibilities as well as drawbacks.
I recommend Little Fish for mother-daughter book clubs and other readers aged 14 and up.
If you'd like to find out what others are saying about Little Fish, check out the blog tour page at Zestbooks.
The publisher provided me with a copy of this book in exchange for my honest review.