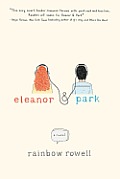 If it weren't for the school bus, Eleanor and Park would have never gotten to know each other. But Eleanor was new and looking for a seat, and Park was the only one who moved over to give her one. Eleanor really stands out in a crowd, not that she wants too. Her hair is red and curly and there's lots of it. There's also lots of Eleanor. Park is half-Asian (his mother is from Korea), the only Asian kid in his school in Omaha. Each of them is sure the other could never be attracted to them, yet once they start sharing the things that are important to them, like music and comics, they find a lot to like about each other. The trouble is, Eleanor lives with an abusive stepdad, and she has to keep her relationship with Park a secret. She's knows it's just a matter of time before Ritchie finds out and ruins everything.
Eleanor & Park by Rainbow Rowell is a tender, sweet romance about two misfits who find each other. Eleanor can't imagine how she can ever have a normal life when her family is so messed up. Park comes from a stable family, but he's never been the type to do the things his dad wants him to do, like hunt and fish and drive a stick shift. Their friendship grows slowly until it becomes so much more, yet it's a fragile thing that is easily strained. Their stops and starts are tentative and real, and I worried that the ending would be painful. But the story of Eleanor and Park is safe in Rowell's hands; she treats her characters as gently as they treat each other. I recommend Eleanor & Park for mother-daughter book clubs with girls aged 14 and up.
The publisher provided me with a copy of this book in exchange for my honest review.
Save