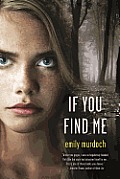 The day Carey's dad shows up at her broken down camper in the woods with a worker from child protective services she knows her life is about to change, but she doesn't know how much. Her meth-addicted mom has kept her and her younger sister Jenessa hidden away for years, and while Carey knows how to hunt and make a can of beans last on a rumbly belly, she has no idea what it's like to live normally. Plus, after all the stories her mom has told her, she fears that her dad is abusive.
Carey is surprised to find her dad remarried to a woman who seems to really care about her and Jenessa. Her stepsister Delaney is less welcoming. Still, Carey works hard to adjust if only for Jenessa's sake. But the secrets of her past may just unwind the sense of security she allows herself to feel.
If You Find Me by Emily Murdoch looks at the vulnerability children face when the adults they depend on fail them. In many ways, Carey is older than her years, as she has had to be responsible for her own and her sister's survival. But she is stunted socially, unsure of how to interact with people and deciding who she can trust. She knows that she will never be "normal," yet she also works to forge a path that will help her fit in and create a future for herself.
Carey's story is a reminder of how much kids need the adults around them to do the right thing, and how wrong things can go when they don't. If You Find Me is a gripping read that will work it's way into your heart. At the satisfying end, I still found myself wondering what happened next for Carey and it was hard to let the characters go. I recommend the book for mother-daughter book clubs and other readers aged 14 and up.
The publisher provided me with a copy of this book in exchange for my honest review.