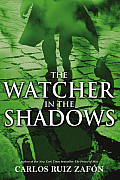 When Irene's mother is offered a job in a remote Normandy village it seems like the answer to their prayers. Life has been difficult after her father's brief illness and death at an early age. Irene and her family are even more enraptured by the employer, a former toy maker with a mansion full of his mechanical creations.
Everyone settles happily into their new surroundings, none more so than Irene, who finds a special bond with a local boy named Ismael. But when a dark shadow is unwittingly released from its prison, it threatens to destroy everything they hold dear.
The Watcher in the Shadows by Carlos Ruiz Zafon is fast-paced and mysterious. Like Zafon's other titles for young adults, The Prince of Mist and The Midnight Palace, the action takes place over a relatively short period of time, but events are the result of long ago decisions made by tortured souls. In this case, Lazarus Jann, the toymaker, has secrets that gradually unfold.
The setting in Paris and Normandy just before World War II adds to the tension as well, because what's to come for all the characters, particularly the teens, is lurking in the background of the story. Zafon also knows how to take a seemingly innocent location, the coast of Normandy, and show the dark and forbidding elements prowling just beyond the sea spray and idyllic paths through the woods.
Be prepared to enter Zafon's mystical world when you pick up The Watcher in the Shadows, as you may want to find yourself wanting to read it straight through. But don't read this one at night unless you're prepared to sleep with the lights on. It's deliciously dark. I recommend it for readers aged 14 and up.
The publisher provided me with a copy of this book in exchange for my honest review.
Save