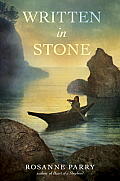 Set on the Makah Indian Reservation on the remote Olympic Peninsula of Washington State, Written in Stone takes a look at traditional whaling practices of the Makah that continue today, and how the loss of this ceremonial hunt threatened the livelihood of the tribe.
The story is told through the eyes of Pearl, a young Makah whose mother and sister died in the influenza pandemic in the 1920s and whose father died on a whale hunt. When the whales begin to disappear, she worries that no one will be left to tell their stories and keep their traditions alive.
Without the meat, bone, fat and other things the Makah harvested from whales, their very survival is in peril. Pearl's uncle, aunt, and her grandparents contemplate leaving to seek work in lumber mills, canneries and other places along the Pacific coast. In the end, Pearl draws on her own creativity and ingenuity as well as the wisdom she has learned from her parents and grandparents to stay true to her heritage while forging a path for the future.
Early in her teaching career author Parry lived near the Makah on the Quinalt Indian Reservation. She beautifully captures the wonder of the place while weaving in details of coastal tribal life in the early 1900s as she tells Pearl's story. At the end, she provides a glossary of terms as well as a bit of history about the Makah.
Mother-daughter book clubs with girls aged 9 to 12 reading Written in Stone will be able to discuss the history of the times, how women were limited to certain roles, and how Pearl ultimately found her voice to preserve what was important to her. I highly recommend it.
The author provided me with a copy of this book in exchange for my honest review.