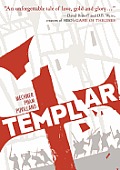 When Jordan Mechner set out to write about the Knights Templar and their lost treasure, he was more interested in the actual history of what happened to the knights than in the current existence of their purported riches. The story of how these knights went from being powerful and respected in the Middle Ages to being accused of heresy and devil worship is full of deceit and corruption.
With his graphic novel, Templar, Mechner has created a sweeping tale that follows the plight of Martin of Troyes, a brave knight who fought in the Holy Land and by chance escaped the initial arrest of everyone in his order. With his band of misfit knights who also escaped arrest and the help of a noblewoman he used to love, Martin sets about finding what the Templars held dear and keeping it from getting into the hands of the powerful people who want all Templars destroyed.
Mechner also worked with illustrators LeUyen Pham and Alex Puvilland on Prince of Persia, and their graphic depictions bring this epic saga to life. A preface and afterword talk about the real history of the Templars and our continuing fascination with them.
It all adds up to a beautiful depiction of a fascinating historical event that can be put out on display or kept on a bookshelf for rereading of the story as well as the illustrations.
The publisher provided me with a copy of this book in exchange for my honest review.