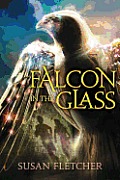 Renzo dreams of becoming the greatest glassblower on Murano, the island near Venice where many beautiful glass pieces are created each day. But since his father's death he has been forced to prove himself early in the hopes that he can become an apprentice and help support his mother and young sister.
His task is much harder, because he's not allowed to have anyone help him learn what he needs to know before he is tested. When he happens across a band of children who have a mysterious connection with birds, he forges a relationship that just may help him get what he needs while providing them with food and shelter. To do this, Renzo will have to work against forces that would lock up the children and bring him and his family down with them.
Falcon in the Glass by Susan Fletcher brings the history and beauty of glassblowing in Murano to life along with a tale of children who must be daring and brave to change their circumstances.
Renzo at first sees the bird children as pawns he can use to help him get what he needs to bring security to his family. But as he begins to look at them as individuals, he learns that he can no longer think only of his own comfort. He finds himself taking risks for them because he knows it's the right thing to do. He also begins to feel a special bond with their leader, Letta.
When Letta and the others are accused of witchcraft, Renzo has to find a way to help his new friends without bringing suspicion upon his own family.
Fletcher is a master at evoking a vivid depiction of a past way of life while also creating a fascinating tale set there. As a twelve-year-old boy, Renzo is grown up beyond his years because he has an enormous amount of responsibility to take care of his family. Yet he hasn't hardened so much that he can't see the humanity even in those who set themselves against him.
Falcon in the Glass is a great read for anyone who loves a blending of history and adventure. I recommend it for readers aged 9 to 13.
The publisher provided me with a copy of this book in exchange for my honest review.