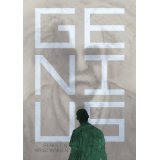 At an early age Ted was identified as a genius, which got him moved ahead at school and an early job at a think tank where lots of super-smart people like him were working. But while he's always been a standout intellectually, he's also always felt socially awkward.
Years into his career he finds himself pressured to come up with profound ideas that will get published and garner recognition, while at the same time he struggles to connect with his teen-aged son. He feels that both his job and his family are slipping away and he's not sure how to make a difference with either.
Ted's drive to seek answers pushes him into conflict with his ailing father-in-law, a man who has a secret that may just help Ted find what he is looking for. But is he willing to betray a confidence to achieve what he wants?
Genius, a graphic novel by Steven T. Seagle and Teddy Kristiansen, looks at the social isolation and pressure that can be put on someone who excels at what he does, whether that is solving complex physics issues or performing in the arts or any other occupation where the emphasis is on output.
Ted is pulled between his job and his family. He needs both the income and the health insurance from his work, as his wife is being treated for a serious illness. When he discovers his father-in-law's secret, he can think of nothing but exploiting the information, knowing it would keep things stable at work for a while. Yet betraying the confidence would go against what he believes about himself. In the end, Ted's genius helps him find a solution that works for everyone.
The publisher provided me with a copy of this book in exchange for my honest review.