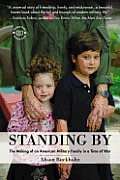 Alison Buckholtz never imagined she'd be the wife of someone in the military, so when she fell in love with and married a navy man, she found herself navigating an alien world. And when she and her husband, Scott, began to have children, she discovered the tightly knit community of other military wives helped her through his long deployments on an aircraft carrier.
Her memoir, Standing By: The Making of an American Military Family in a Time of War, is a candid look at what life is like for couples, moms especially, who are raising children as their spouses are assigned to remote and often dangerous locations for months, sometimes even a year or more.
Buckholtz writes with honesty about her mixed feelings of war, politics, and the policies that rule how members of the military are assigned. She shares her frustrations about being a single parent while her husband is away, and the challenges she faces helping her children deal with their own separation grief.
Sprinkled in with Buckholtz's personal narrative are stories of other women she meets, mostly during the time her family spent in Anacortes, Washington. Through her eyes readers get a glimpse of a world that is unknown to most people who are not part of the extended military family. Buckholtz weaves together a story that covers the historical role played by military wives while also talking about how their role continues to change in current times.
Standing By can provide insight to the challenges parents and families in the military face. I believe it's a good choice for someone in a similar situation as hers, extended family members who may be wondering how to help military families, and even readers who have no personal connection to someone serving.
The author provided me with a copy of this book in exchange for my honest review.