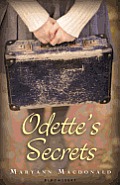 Odette was four years old living in Paris with her mother and father at the outbreak of World War II. Right away her father volunteered for the army and went off to fight. As time went by things got more and more difficult for Jewish families in Paris, and Odette's mother made plans for where they would go if they needed to escape the city.
Odette's real life story has been brought to life in fiction for young readers in Odette's Secrets by Maryann Macdonald. After reading Odette's autobiography, Macdonald knew her story must be told, and she tells it in a child's voice. This makes the tale even more poignant, as we see the events in Paris and then in the countryside of France through a young person's eyes.
While the dangers for Odette and her mother were real, we see the multitude of non-Jews who helped them escape detainment during the war years. There's the couple she calls godmother and godfather, who own the building Odette lives in and who help her escape the city. There's the family in southern France who welcome several children into their household, certainly at risk to themselves and their own children.
But Odette learns she must keep secrets and disguise her true identity because some people are not so willing to help. As she learns to be a good Catholic, she also questions the differences between the religion she was born into and the one she embraces in order to escape detection. The story is fascinating, and Macdonald stays true to how a child would see the issues she is facing.
Odette's Secrets is not only a great novel to introduce young readers to the story of Jews in France during World War II, it's also a good book to read overall. I highly recommend it.
The author provided me with a copy of this book in exchange for my honest review.