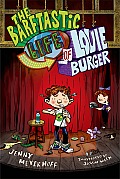 Both boys and girls aged 9 to 12 should love to read this book about a boy who is navigating changes at home and with his friends at school while also trying to build his courage to perform. It's a great story, and I have one copy to give away. Just leave a note in the comment section about something you love to do, and you'll be entered to win. Comment before midnight (PDT), July 1 (addresses in the U.S. and Canada only please). Please note: The giveaway is closed. Congratulations to Victoria on winning.You may also be interested in what author Jenny Meyerhoff has to say about the challenges of writing humor for children.
Review: The Barftastic Life of Louie Burger by Jenny Meyerhoff
Louie Burger loves stand-up comedy, but he's more comfortable performing to the socks in his closet than to real people in an audience. When his dad suggests that he sign up to do a comedy routine for the fifth grade talent show, Louie says no way. But something about the idea sticks in his mind. Could he really make people laugh?
The Barftastic Life of Louie Burger by Jenny Meyerhoff is not just a book about a kid who loves comedy. It's also a look at how any of us find the courage to figure out what we like to do and then do it, even if you fear you will fail. Sometimes that means you have to ignore the little voice inside your head that you're not good enough.
Louie is not the only one in the book trying to follow his passion. Hi dad is also trying to jump start a career as an artist after he was laid off from a corporate job. Louie looks to him for inspiration, but it's easy for his dad to get discouraged too.
Louie is also dealing with an issue with his best friend, Nick, who has discovered a new friend he wants Louie to spend time with too. If feels to Louie as though he's being pushed out in favor of Nick's new friend.
Although the book has lots of features that will appeal to boys (burping songs and barfing to name a couple) the book should be good for both boys and girls. Louie is a sympathetic character that anyone can relate to, and Jason Week's illustrations do a great job of capturing the action while also being funny. Issues of friendship, sibling relationships, worries over not fitting in with classmates, performance anxiety, and more are sure to be great discussion material. I recommend The Barftastic Life of Louie Burger for mother-daughter book clubs with girls aged 9 to 12.
The author provided me with a copy of this book in exchange for my honest review.