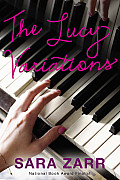 All her life sixteen-year-old Lucy has been told she has a gift, a special talent for the piano. Yet she no longer plays after walking off the stage at a competition the year before. Now her younger brother Gus seemed poised to take her place, both in the world of music and with her family, as her mom and grandfather put their time and effort into pursuing recognition for him.
Lucy's conflicted about how she feels. On the one hand, she's glad to have the pressure of always achieving, always competing gone. On the other, she misses playing the piano, but she's not sure how to go back to it without getting entangled the way she was before.
When a new teacher begins giving her brother lessons, Lucy seems to connect with him and she starts to seek his advice. But playing again, and forging a bond with a married man, proves to be more complicated than she thought.
The Lucy Variations by Sara Zarr takes the reader inside the world of international piano competitions, but it's also a look at family dynamics when everyone is so focused on what the children achieve. Lucy doesn't feel as though she can be honest with her mom, because she feels that she's letting her mom and grandfather down by not continuing down the path they have paved for her.
After she gets into a conflict with her best friend, Lucy also has to ask herself if some part of her likes being in the spotlight and performing. She also has to question her reasons for seeking approval from older men in her life. It forces her to think about what's most important for her and then find a way to regain the joy she gets from music. Lucy's journey of self-discovery is relevant for anyone, not just teens on the cusp of adulthood or those enmeshed in competitive undertakings of any kind.
The publisher provided me with a copy of this book in exchange for my honest review.