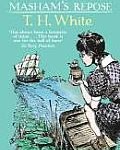 Here's a guest book review from author Christina Hamlett. Visit her website for more information about her work, www.authorhamlett.com.
Title: Mistress Masham's Repose
Author: T.H. White
Publisher: New York Review Children's Collection (2004)
Reviewer: Christina Hamlett
What a wonderful trek down memory lane! I owned a copy of this book when I was 10 and remember being so riveted by it that when it was time to go to bed I took the book under the covers with me and finished reading it by the light of my Girl Scout flashlight. (Which no doubt accounts for why I have such bad eyesight as an adult!) Since my own copy had been long gone, I was delighted to discover I could buy a replacement on Amazon. Instead of preceding this one with a cup of hot chocolate and finishing the last chapters by flashlight, however, I had a martini and happily stayed up until midnight. Time has not diminished in any way the satisfaction of a tale well told.
The story speaks to timeless themes about the powerlessness of children in the dreary world of rules imposed by adults. Is it any wonder, then, that the spunky heroine, Maria, delights in the colony of Lilliputians she discovers on the grounds of Malplaquet and sees a ready kinship with their dreams, fears and sense of righteous rebellion. Although she is not a perfect child, Maria is possessed of a kind heart that infuses her with bold – and sometimes comedic – determination to save her diminutive friends from harm. T.H. White seamlessly intercuts between the two worlds that Maria inhabits. It wasn't until many years after I first read this book that I recognized striking parallels to the novel for which White is most famous – The Once and Future King. Maria shares much in common with the bewildered young King Arthur, including the "Merlin" mentorship of a bookish professor and a quest to keep an enchanted and special version of backyard Camelot from being absorbed by external vice and unabashed greed.
Although the book is targeted to lower grades, one would never know it from White's style and engaging use of language. He would be the type, I think, who could hold lengthy discourses about the state of the world with a rapt gaggle of 10 year olds and they would never once think that he was talking down to them nor trying to impress them with philosophies beyond their vocabularies or frame of reference. Whether you're discovering this literary treasure for the very first time or revisiting it after a long absence, it doesn't fail to entertain or inspire.